There's no place in a simple, deliberate life for a complicated hairstyle. By simplifying your haircut, you can look good while still reflecting simple, minimalist values.
It's important to mention, however, that men and women are often believed to think differently about this issue. But even mentioning that, I suppose, draws me very close to stereotyping. Some women have clipper cuts and some men have carefully styled long hair. While I'm willing to acknowledge that different people have different levels of concern for (or dare I say, fetishes about) their hair, that's as far as I'll go.
I'm willing to say this though: A complicated hairstyle can be a symptom of a life that's out of control. Radical enough for you?
Someone with a complex style or cut may be self-conscious about appearance and hiding behind the hair. Or big hair could indicate that someone is trapped in a consumer mentality, insisting on paying a high price for a haircut because expensive cuts are better than cheap ones. Worst of all, overstyled hair could indicate a person who doesn't analyze their life by looking for simpler, better, cheaper, nicer alternatives to what's always been done.
Here are 6 more things that I know are true about minimalist hairstyling.
1. Short clipper cuts are simple, but a shaved head isn't.
I expect some disagreement about this. While a shaved head looks like a minimalist style, it takes too long to do well and requires maintenance to look good. Speaking from experience, I can tell you there's nothing simple about shaving your head. Buzzing your hair with clippers and guard number 1, 2, 3 or 4, however, looks great and continues to look good for weeks, so that's my current choice.
2. It's silly to pay for something you can do better yourself.
And that includes clipper cuts. In the past, I've frequently paid to have my hair cut with clipper guard number 3 or 4 – then realized when I got home that there were little pieces of hair sticking up that I had to trim myself. And I've not yet visited a barber or stylist who can trim a neckline straight. But after some practice, I can do it perfectly myself.
3. Dyes have no place in a simple life.
Even though I have more gray hair than some people my age — and it's rapidly increasing — I promised myself years ago that I would never use hair dye. Setting aside the mess of doing it myself or the expense of having it done, coating my head with chemicals and then allowing them to slowly absorb seems an absurd idea if I want to live a long, healthy life.
4. Hair products deserve a minimalist approach too.
While I'd like to say that I don't put anything on my hair other than my inexpensive natural store-brand shampoo and conditioner from Whole Foods, I do use a little styling gel, especially when I'm almost due for another trim and my hair's longer than it should be – to turn my shaggy hair into something modern and messy. But surely hairspray and beautician-set styles are things best left in the last century.
5. You don't have to look the same every day.
I trim my hair every five or six weeks. Today, it looks very short because I trimmed it a couple of days ago. The day before I trim it again it will be longer, require a bit more gel to maintain order/disorder and will look, perhaps, a bit better actually. I don't need to always look the same. In fact, most days it doesn't matter how I look at all.
6. Attitude toward your hair plays a big role.
Here's an admission: Since my high school didn't allow long hair, I did my hair experimenting when I was in my 20s. I had hair past my shoulders for at least a couple of years. But it never looked good and always bothered me. Because I'm a simple guy at heart, I never did much other than comb it back or very rarely put it in a ponytail. A minimalist approach to a high-maintenance hairstyle simply doesn't work.
And that's what I know about minimalist hairstyles. What do you know?
While there's more than one kind of hairstyle that can reflect simple, minimalist values, choosing one that's too complicated while espousing simplicity as a way of life can make you look like a hypocrite.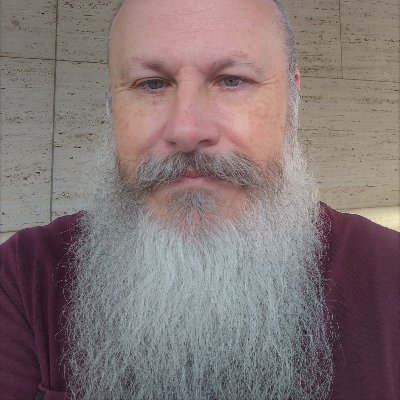 Gip Plaster is a web content writer. Previously a journalist, online bookseller and even a corporate advertising guy, Gip now specialize in writing high-quality content for websites — his and other people's. Learn more here.