Learning to cut my own hair with some cheap discount-store electric clippers is one of the best decisions I've made since adopting a minimalist lifestyle, but I almost didn't include this topic in my "best decisions" collection.
That's because we seem to have talked it to death in the comments section the last time I brought it up.
Apparently, not everyone thinks that a minimalist hairstyle is necessary to live a hypocrisy-free minimalist lifestyle. Simply put, it seems that you either accept that hair isn't a big deal and figure out how to do it with very little effort — or you don't.
This is the fifth post in a 10-part series highlighting the best decisions I've made on my journey toward a simpler, more deliberate life. But maybe "highlighting" is a bad choice of words in this case. Highlighting your hair is one of those bits of silliness that doesn't really belong in a simple life.
Minimalist Hairstyles
I originally wrote about minimalist hairstyles on February 15, 2011 in a post called Minimalist Musings On Doin' Your Do … Or, Hairstyles Of The Poor And Satisfied. (It seems I was still in my long-titles phase then.)
In that post, I refused to accept that women and men might have different ideas on this topic since there are women with clipper cuts and men with long hair (I was once one of the latter), but the comments told me that women care much more about this topic than men do.
In any case, I made three bold statements in the original post that I want to reaffirm. That's a lot of boldness in one little post, but it's there nonetheless. In case you don't plan to check out that post today, here are the three bold statements:
1. "There's no place in a simple, deliberate life for a complicated hairstyle."
2. "A complicated hairstyle is a symptoms of a life out of control."
3. "While there's more than one kind of hairstyle that can reflect your simple, minimalist values, choosing one that's too complicated can make you look like a hypocrite."
I really believe those things. Do you?
I made a few other points in that previous post too. Among them is the idea that you don't have to look the same every day and that hair dye and hair products are silly (although I use a little gel when I haven't trimmed my hair in a while to keep it all pointing in the same general direction).
Proof Of Independence
Adopting a minimalist hairstyle was important to me for several reasons. Most importantly, it showed me that I can handle my own personal requirements without depending on others — and that I can do it without spending a lot of money.
I stopped turning to others to handle this grooming task shortly after I shaved my head for the first time. While I soon found out that shaving your head is complicated to get right, isn't fun and takes lots of time, it was important to me to try it. My hair had thinned a bit and I was proving to myself that it didn't matter to me at all if it thinned or I went bald.
As it turns out, it's been several years now since I first shaved my head, and my hair hasn't fallen out. If it ever does, however, I don't care. It would be one less thing to worry about. I thought I might care, but I proved to myself by taking matters into my own hands that I really don't care — at all. That was important to me.
And as a side note, guys, I've also found the getting yourself the best stubble trimmer you can find is a great substitute for shaving all the time or actually having a beard. Both of those options take more work than stubble.
A Final Thought From Someone Named Jo
Someone named "Jo H." used to comment here frequently, and she offered a comment on my original "doin' your do" post. Some of us, she said, are more "natural beauties than others of us and can afford to buzz cut, go grey, air-dry, self-trim, or even use pinking shears on our locks". Jo, on the other hand, suggested that her face "needs more help" from hair than some others.
She's wrong.
She doesn't have a gravatar beside her name and she never mentioned having a blog. I've never actually seen Jo, but I know she's wrong on this point. She's completely wrong. She looks just fine without a fancy haircut, a toxic dye job and wasting hours in front a mirror. She's fine just as she is — simply and naturally.
I'm no looker either. And that's okay with me. I really don't care anymore — at all. Part of my transition to a simpler life is putting aside the silliness of trying to squeeze my appearance into a box built by someone else.
I'm a tall, awkward guy who wears thrift-store clothes and cuts his own hair. I'm also more amazing than you can imagine. Do you have a problem with that?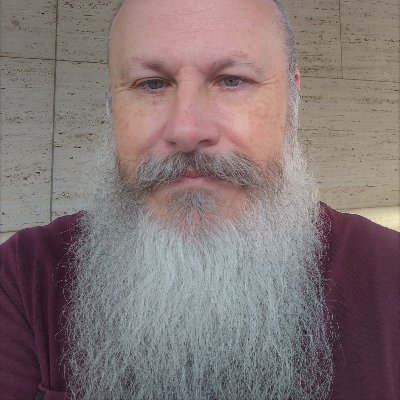 Gip Plaster is a web content writer. Previously a journalist, online bookseller and even a corporate advertising guy, Gip now specialize in writing high-quality content for websites — his and other people's. Learn more here.